Top Seven Reasons Why College Students Need The Extra Income
---
Tired Of Working In a Job That Does Not Pay
Many college students are working endlessly to support themselves financial just to attain higher education. However, the jobs that most college students are being offered does not pay much. In fact due to lack of experience age or even not fully being qualified for the position, they are being underpaid.
The pay received from a part-time job may not even be able to cover 50% of the tuition cost that is being faced with, which was a situation that I was in.
Saving Towards Life Goals
In all life's happenings, we have been told to save, save, and save! The concept of saving had been drilled in many of our heads ever since we were children. Well, believe it or not, college students are interested in saving too. Yes college does cost a lot and graduation can be pretty pricey. Whilst this is the case, college students do look beyond graduation.
Owning a new car or taking a vacation after the graduation festivities. College students are not just teenagers who have just left high school, but many are fully mature adults who have the challenges of life…. a family and even kids to take care of , hence they will turn to the internet to find a source to earn some cash to put towards these investments.
Trying To Cover Financial Costs
Financing oneself through college is definitely no bed of roses when many students have to think about the cares of dorm fees/rent, food and the tuition cost in and of itself is another aspect that many are also faced with.
Some students may be on some type of student loan but what is happening now is that almost everything in life comes with a cost that will dig deep into the pockets and purses.
The three main expenses "rent, food and tuition" for 3-4 years in college can quickly increase and as the price of living goes up, so many college students turn to the internet to seek a way out and ease some of the burdens off their parents.
Wanting To Cover Owing Debts
Often times when college students believe that they have reached the end of their journey "Graduation" it is not so. Going to or visiting the finance office may just prove wrong. At the end of each term, I see and hear students in their final year complaining and saying that they cannot march and receive their certificate for graduation because they are owning money at the finance office.
Sometimes they don't even realize they had outstanding balances until the end. How will they be able to cover all these expenses?……the internet has proved to be a great place to earn some extra dollars to take care of many of these owing debts to the colleges.

Have to Start Paying Back Student Loans
Being in a student loan debt after graduation is not anything nice. It is really embarrassing to see your name or picture being printed in the papers because of not making the necessary payments for the student loan having had received.
This is not only a bad credit, but it is a bad financial record and is able to prevent the student from receiving a loan from other financial institution for future use. Therefore, the internet has been a very efficient source in helping college students to meet the necessary deadlines in paying back these loans.
Not Having Enough Cash on Hand To Spend 
When being at school it is important to have cash almost at all times. Colleges have a way of presenting many essential things that will cost money and are not a part of the tuition. Talk about buying textbooks,  and carrying out projects. Also buying lunch, going out with friends on the weekend and going on a class field trip are things that tend to call for immediate cash.
The internet with various strategies on making money has yet again proven to be a ray of hope in helping many of these college students accomplish their dreams in completing their education.
Need More Free Time To Focus On Studies
It can be really challenging to remain focus on studies when one is working or is worried about the amount of bills or expenses to take care of. With the many job opportunities available online, college students are able to put in a few hours in working online and receive great rewards at the end.
It is important to have time to get all the necessary school work and assignments completed and handed in on time. Making money while studying through medium of the internet has proven to be an amazing privilege that many students grasp.
The Solution To Your Problems
---
Being a college student myself I always wondered when will I get a break through to focus more on getting A's, than have to be fussing about with two jobs while studying. I needed an extra income as the jobs that I was doing still was not able to cover my tuition expenses. That was when I came across this SOLUTION and I am eager to share what I have discovered with you. It is called Wealthy Affiliate.
But First Take A Look
---
Read my story Here that I shared with the new loving and supportive community that I have found.
I never dreamed that this breakthrough would be possible. I have found a way to earn an income online that really works. I have met two wonderful individuals who are the founders of this company and they have been extremely supportive in helping me to reach the place where I am today.
Is it Too Good to be True?
---
What is Wealthy Affiliate
This is an online affiliate marketing program that offers training and give the opportunity to earn while you learn the skills necessary to have your own home based business.
It opens its doors to experts and newbies who want to earn a part-time income or to those who want to fully invest in being a full-time entrepreneur. Training, tools and support are some of the key elements that are provided to making the journey to being successful a possibility.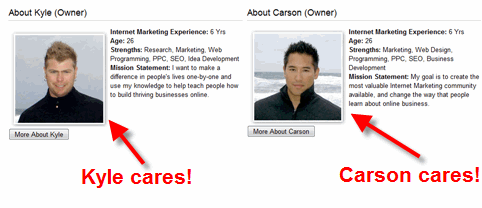 Founders, Kyle and Carson have made my experience one that is second to none. At first I was thinking that the process would be so hard and tedious, but I realize that I was only letting my fears getting the best of me.
Now it is like logging into a social site like facebook or twitter and doing the things that's so easy.( sharing a photo, liking videos, sending messages etc.) These are all simple task to do.
Well Wealthy Affiliate has provided easy step by step training on how to earn revenues by buildout out a website totally free and earning revenues. The training is one that is second to none and can make one successful even if they decide to no longer be a member of the program.
The process of attaining a second income is really simple. I did not know that earning money online could be so simple until I found this pretty simple method introduced to me by Kyle and Carson.

Is The Internet a Safe Place?
---
I was very much scared at first in doing business online. In fact, I got ripped off or scam as they called it four times 
before I came across Wealthy Affiliate. I do not want another college student to face what I did so am coming across with this offer having your best interest at heart which is to help you make money to take care of the many issues that college students face in a legal and legit process.
An open mind and an open attitude is all it takes. This is not just about making money in college but believe me when I say that after college the bucks will still come rolling in.
I do not need to emphasis on the  credibility Wealthy Affiliate has on working with members online to achieve to achieve their dreams because the testimonies come rolling in every day.
What You Get When You Sign Up
---
Kyle and Carson have put together a lovely package for newbies that is irresistible. These are some of the things to expect when you sign up to Wealthy Affiliate.
I want to present college students like myself with clear cut information so as to make a truly informed decision.  You have the chance to try out this system for free, giving you an even better opportunity to decide whether or not this is the right place for you.
There is no guru to this. You will have access to all the tools, support and training on the inside. You can have a look at a review that I did on the product which is 100% unbiased. "Review"
You may be wondering if this business opportunity will take all your time but honestly as a college student all you need to put in is 2 hours a day and more if available. This program is designed to help you make money and at the same time have free time on your hands to do what your are at college to do "Study".
And yes I might not have said it before but I am a member. Take a look inside at "My Profile"
Benefits of Capitalizing on this Opportunity
---
The benefits to being a part of this program are countless. I have put together a small list on some of the benefits that I know a college student would really enjoy and experience when and while being a member of the WA community.
Great benefit of owning your own online business and website.
Allows college students to better balance school and work effectively.
Rewards are greater than a 9-5 job $$$
Having more hours to dedicate to school work….. A's
Getting the help needed from experts and experienced persons in the field. Even from the owners themselves.
All the tools needed to move forward successfully.
Simple step by step training and live 24/7 support at WA
There is no time to waste or let an opportunity like this passes by. Starting Today is Free $0. Put away you credit card. I am looking forward to meeting you on the inside.
I would love to answer any questions that you may have, and you can also share your views on this article by leaving a comment below,
Nichole